01. Installation of Sky Well Series
Monoprints on mulberry paper and acrylic paint applied directly onto the wall
2018
Sky Well is a series of four large-scale pieces which represent the orbit of the earth around the sun by way of the seasonal night sky. The constellations represented in the central night sky appear as they would during that season and are determined by the directionality of the wall they are installed on. For instance the piece in the series, Sister Stone, which depicts the Pleiades constellation as it would be see in the Eastern sky, is situated on the East wall. Within the series, a viewer will be able to face each cardinal direction and see constellations characteristic of each season. Each work is accompanied by a star-map label, which names the constellation—and the stars within the constellation—and encourages the viewer to look for that constellation within the work.
02. "Autumn Waters"
Monoprints on mulberry paper and acrylic paint applied directly onto the wall. 2018. 105" x 120"
Here the constellation Cassiopeia extends across the Milky Way as it would be seen in the autumn sky. The season holds particular significance, as Earth's orbit begins to turn us toward the periphery of the galaxy in autumn (in summer, we face its center). This large scale drawing invites the viewer to look into something both familiar and terrestrial - the stone - to see another realm, the celestial night sky.
03. "Autumn Waters, detail"
Monoprints and paint applied directly to the wall. 2018. 105" x 120"
04. "Dark Ground, diptych"
Silk screen and ink on paper. 2017.
60" x 125" each panel
05. Dark Ground, installation
Silk screen and ink on paper. 2017. 60" x 125" each panel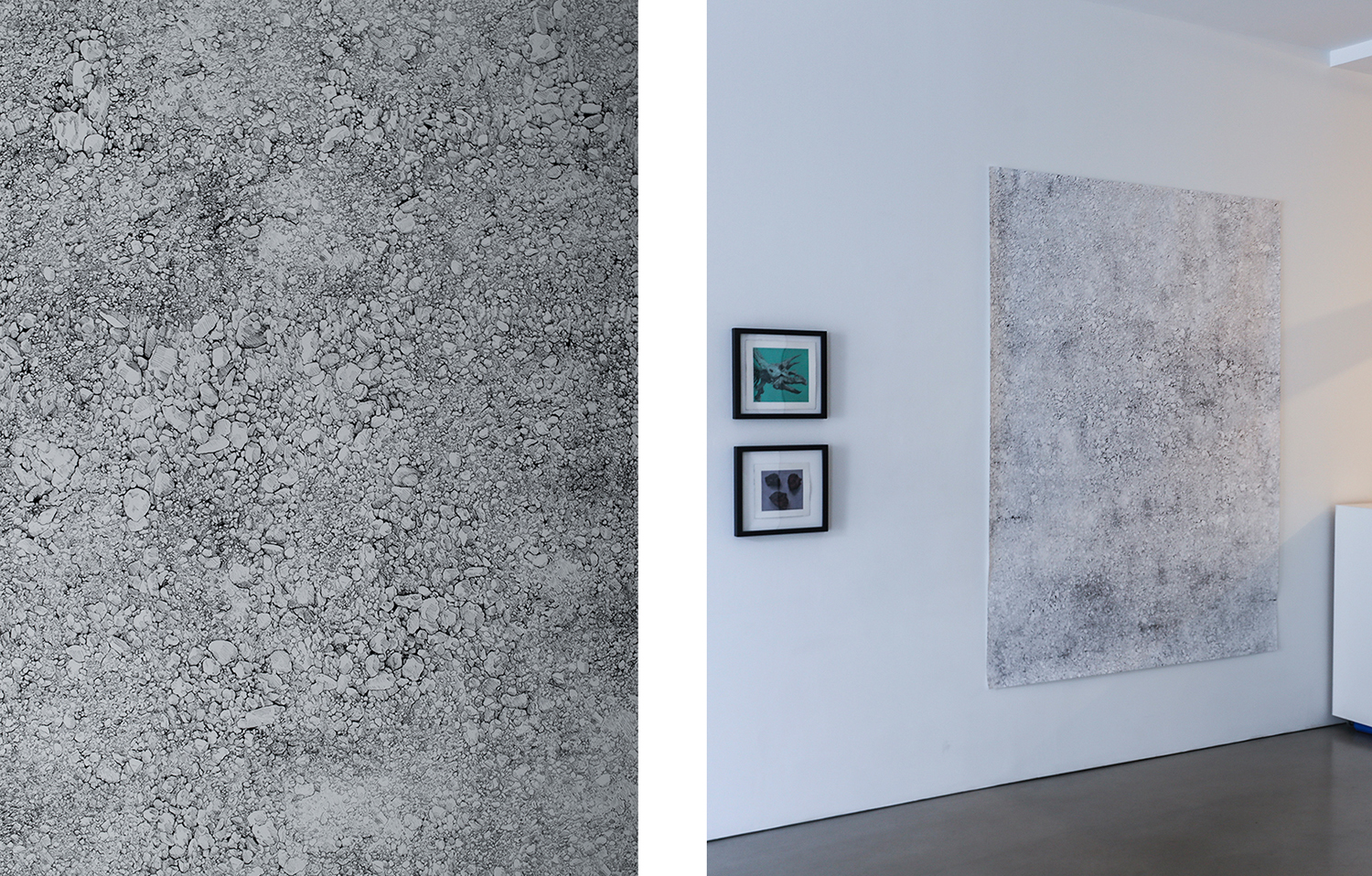 06. To and From the Ground
Silk screen and ink on paper. 2016. 96" x 60" Installation at Morgan Lehman Gallery
07. Bark Skin, installation and details
Loose pigment powders, gouache, charcoal, distressed paper. 2017. 144" x 60" each panel
08. "Hubris of Orion"

Charcoal and gouache on unprimed canvas.
2016. 126" x 90"
09. Rosetta Stone Back Side
Pastel pencil and gouache on paper. 2016.
52" x 42"
10. A Time Apart, diptych
Pastel pencil and gouache on paper. 2016.
55" x 48"
11. Installation of Rosetta Stone Back Side and A Time Apart in What Remains exhibition

2016. Haw Contemporary, Kansas City
12. The Weight of Awe

Monoprint, pastel, gouache on paper. 2018.
30" x 36"
13. The Hands of Atlas
Monoprint, pastel, gouache on paper. 2018.
36" x 30"
14. Orion Star Map, diptych
Pastel pencil and gouache on paper. 2016.
32" x 23" each
15. Ancient Cuneiform Planisphere
Pastel pencil and gouache on paper. 2016.
10"x10"
16. Last of Their Kind: Critically Endangered Bears
Oil paint on linen. 2018. 24" x 34"
17. Last of Their Kind: Critically Endangered Birds
Oil paint on linen. 2018. 36" x 28"
18. Venus
Oil on canvas. 2015. 9" x 12"
19. A Kinship
Oil paint on linen. 2015. 32" x 36"
20. Pursuit of Knowledge
Oil on canvas. 2015. 36"x 52"